Roof Cleaning Moss Removal
Roof Cleaning & Moss Removal Service in East Cambridgeshire CB6 CB7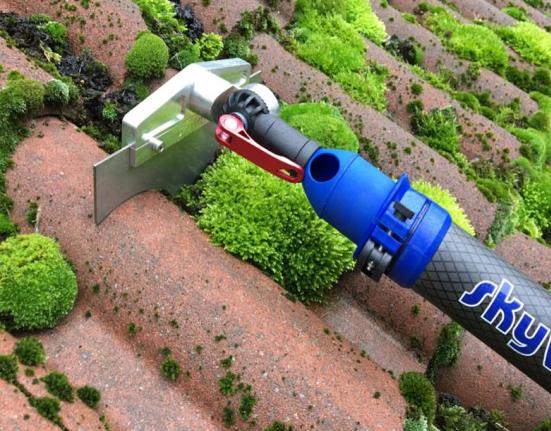 Elyte Window Cleaning provide a moss removal & roof cleaning service which removes unsightly moss and prevents potential damage occurring to your property. Not only will your roof be cleaned, the chemical application will also prevent moss and lichen regrowth.
Usually we are able to remove the moss from your roof from the safety of the ground without the use of ladders, scaffolding or towers.
We use the soft wash method to clean you roof. We do not use high pressure jet washers which could damage your roof.
Why have moss removed from your roof?
Moss, algae and lichen tend to grown in damp shaded areas. With the exception of being unsightly, moss on roofs could also affect the drainage of rainwater away from the roof.
When large patches of moss grow on your roof, they hold water against the surface of the roof, which could cause the roofing materials to rot. Moss is like a sponge and if the moss is growing between the roof tiles, when the moss draws in water it expands and could force gaps between the roof tiles and potential leaks in your roof.
Moss can obstruct the regular flow of water to the gutters, in turn inhibiting the flow of water away from the property. Some moss will fall away from the roof and tumble into the gutters. Your gutters will then become blocked and rain water will overflow, potentially causing damage to your home and very expensive damp repairs.
How we clean & clear your roof.
Elyte Window Cleaning use modern industry leading equipment to remove moss and clean your roof from the safety of the ground.
Step 1: We will access the working area and place safety warning signs where necessary.
Step 2: Protective tarpaulin will be placed on the ground beneath where we are cleaning.
Step 3: Using our high reach skyscraper, we will remove as much moss as possible from your roof.
Step 4*: After the majority of moss has been removed, we will then clear any moss from your gutters and clear up any moss which has fallen to the ground.
Step 5: A chemical treatment is then applied to the tiles. This will kill remaining stubborn moss & lichen and also prevent any regrowth.
Elyte Window Cleaning aim to keep the working area as clean and clear as possible during and after our work.
It is advised that your windows are professionally cleaned after any cleaning has taken place above the windows. We provide a professional window cleaning service either as a regular clean or one offs.

please note; we require a minimum of 20 m2 of roof cleaning to be booked. If you have less than 20 m2, we will price the job as 20 m2.
ELYTE Window Cleaning also provide a Window Cleaning Service. This service is priced separately from roof Cleaning, however we can offer a package deal if you have windows professionally cleaned after the roof cleaning.
*It is advisable that your gutters are cleared after we have cleaned your roof. However at your request, this stage could be skipped to save cost.