Professional Fascia & Soffit Cleaning Service in Witchford CB6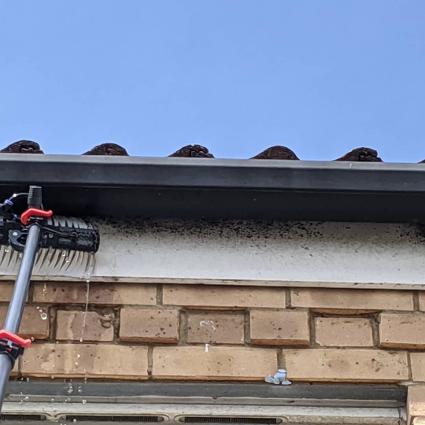 Upvc Fascia, Soffit & Gutter Cleaning
The front of your home is the first thing people see, so a green and dirty front doesn't necessarily make the best first impression.
Fascia boards and soffits are more than often overlooked, even though they play a very important role in protecting your home's roofline.
Cleaning your soffits and fascias not only keeps your house looking fresh from the outside, it also helps you see early warning signs of damage and remove the build up of mould growth.
What are fascia and soffit boards?
Fascia
The fascia board is a long board usually made from UPVC. This board holds the guttering and runs along the underneath edge of your roof.
Soffits
The soffit board again is usually made from UPVC and is attached to the bottom of the fascia board. Soffits are often ventilated to allow air to flow through the roof area. It is important to keep these vents clear to enable a free flow of air around your roof. Poor ventilation could cause structural roof timbers to decay/rot as condensation forms in the roof void. Unvented soffits can have after market soffit vents added.
Cleaning Fascia & Soffit Boards
Cleaning fascias and soffits is often tricky and sometimes inaccessible without the correct professional products and equipment. Some companies will clean your upvc with ladders and/or high pressure jet washing. This could be unsafe for the operative and the high pressure jet washing could cause damage to your property.
How we clean fascia &
soffits
Elyte Window Cleaning use modern industry leading equipment to clean your upvc fascias, soffits and the outside of gutters from the safety of the ground.
Step 1: We will access the working area and place safety warning signs where necessary.
Step 2: Application of a suitable chemical formula is applied to the plastic fascia, soffits & gutters using precise sprayers attached to carbon fibre poles. The chemical is left for a period of time to penetrate any algae and traffic film.
Step 3: Once the chemical has had enough time to penetrate the upvc, we then scrub and rinse the fascia, soffits & gutter using pure water via a soft wash brush attached to a high reach carbon fire pole.
Step 4*: As the water we use is pure, we can allow the water to dry naturally leaving no drying marks.
Elyte Window Cleaning aim to keep the working area as clean and clear as possible during and after our work.
It is advised that your windows are professionally cleaned after any cleaning has taken place above the windows. We provide a professional window cleaning service either as a regular clean or one offs.

please note; we require a minimum of 10 meters of Fascia and/or Soffit cleaning to be booked. If you have less than 10 meters, we will price the job as 10 meters.
ELYTE Window Cleaning also provide a Gutter Clearing service. This service is priced separately from Fascia & Soffit Cleaning, however we can offer a package deal if you have Fascia, Soffit cleaned and Gutters Cleared.
* on occasions, we may also assist the drying using high reach microfibre pads.