PROFESSIONAL GUTTER CLEANING SERVICE IN ELY CAMBRIDGESHIRE CB6 CB7
GUTTER CLEANING... LEAF IT TO US!
ELYTE Window Cleaning provides a Gutter Clearance service with the assurance of a professional job every time.
FIXED PRICES
Our Gutter cleaning prices are charged per meter. Our per meter price depends of the severity of cleaning/clearing required.
Standard Gutter Cleaning @ £3.75 per meter
Heavily Blocked Gutters @ £5.25 per meter

* please note; we require a minimum of 10 meters of gutter cleaning to be booked.
ELYTE Window Cleaning also provide a Soffit and Fascia Board Cleaning service. This service is priced separately from Gutter Clearing, however we can offer a package deal if you have Fascia, Soffit and Gutters Cleaned.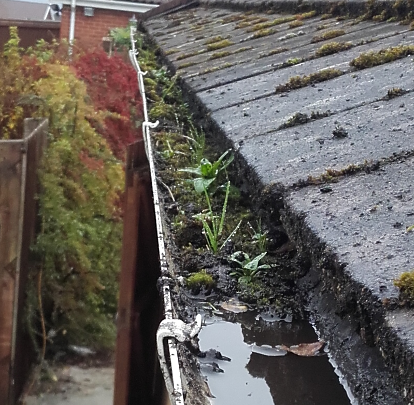 WHY HAVE YOUR GUTTERS CLEARED?
Cleaning your gutters is one of the most important things you can do to maintain the beauty and value of your home.
When the gutters are full of leaves and debris they become heavy, causing them to pull away from your property. As water overflows, it leaks behind the gutter and can make its way into your home.

Gutters play a key role in the protection of your home. They are the main part of the rainwater drainage system that helps prevent:
Foundation damage
Rotten wood
Mosquito & Gnat infestations
Mold growth
© Copyright ELYTE WINDOW CLEANING 2019