Window Cleaners in Wilburton
PROFESSIONAL WINDOW CLEANING SERVICE IN WILBURTON CB6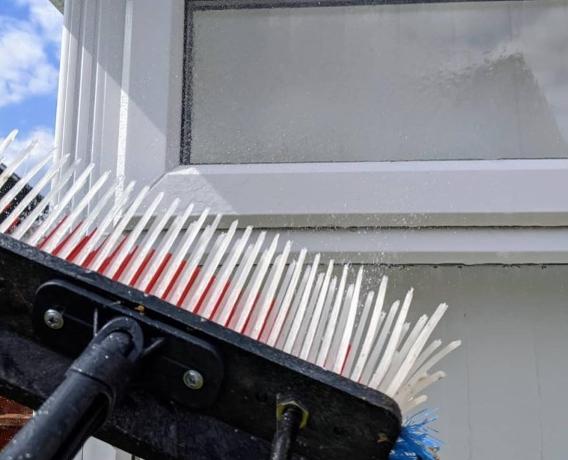 Windows so clean, you'll think they're open!
At Elyte Window Cleaning we provide a domestic window cleaning service in Wilburton using the modern water fed pole (wfp) method. This method allows us to safely and effectively clean your windows from ground level. Using the wfp method also allows us to clean windows in all weathers.
We clean the glass, frames and sills as standard
Elyte Window Cleaning offer a regular window cleaning service or one off window cleans.
Why Choose Elyte Window Cleaning?
Today many of us lead fairly busy lives, so we have tried to make it as hassle free for you to set up your window cleaning service.
We clean your windows with our high reach carbon fibre water fed poles and soft bristle brushes, this means we can access many windows that traditional window cleaners may struggle with (eg. above a conservatory). The water we use is so pure because it has been through a triple filter including particle filter and carbon filters before going though a reverse osmosis filter and finally to polish the water off, a deionizer. The water is left on the windows to dry naturally leaving no water marks and beautifully clean windows.
All our operatives are fully insured and have had an enhanced police check (DBS).
Invoicing is electronic* and emailed via QuickBooks at least a week before we arrive to carry out the window cleaning, the date of clean is on the invoice so you know when we are due. We accept multiple payment options, including Bank Transfer (BACS), Cash and Cheques. Our preferred payment method is by bank transfer.
Should you have any further questions please get in touch or visit our FAQ page.
*Paper/Hard Copy invoices are available.
WHY HAVE YOUR WINDOWS CLEANED?
Clean windows improves your view and protects your investment. Over a period time dirt and grime that collects on windows and frames can cause damage and reduce the attractiveness of your home or business.
Keeping your windows and frames clean and in good repair not only lightens your mood and lets the sun shine in, it is a necessary part of good property maintenance and having clean windows is one of the best ways to show off your home or business.