Solar Panel Cleaning Service in Soham CB7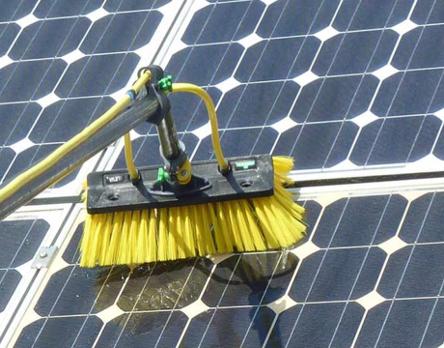 Soft Wash Solar Panel Cleaning
Elyte Window Cleaning provide a professional solar panel cleaning service in Soham.
Using our high reach and wash system we can delicately clean off the mess, dirt and algae from your solar panels ensuring maximum sunlight enters the solar cells.
How we clean solar panels.
We are able to carefully clean your solar panels from the safety of the ground. Using our carbon fibre water fed pole we can gently scrub away dirt with the soft bristle brush which has been specifically designed to lightly loosen the grime from solar panels. We then thoroughly rinse the solar panels with our filtered pure water, leaving your panels clean and ready to generate maximum energy.
Why have your solar panels cleaned?
Solar panels are an expensive investment. They work by absorbing sunlight and if the panels are dirty, less sunlight will penetrate. To ensure your panels are working at optimum levels, it is essential to keep your solar panels cleaned and avoid build up of dust, bird droppings and algae.