Conservatory Roof Cleaning
Conservatory Roof Cleaning Service in Little Downham CB6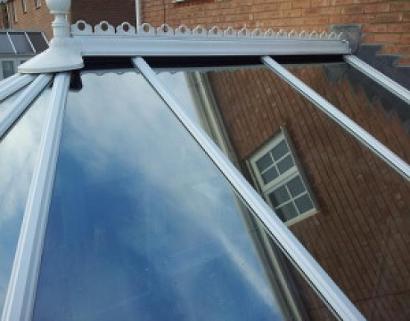 Soft Wash Conservatory Roof Cleaning
Elyte Window cleaning offer a professional conservatory roof cleaning service in Little Downham.
We are able to safely clean the majority of conservatory roofs without the use of ladders or scaffolding and only using safe non corrosive biodegradable detergent.
How we clean your conservatory roof
Step 1: Site our cleaning equipment in a convenient location to avoid any trip hazards
Step 2: Pre rinse the roof to remove any loose debris
Step 3: Apply our specialist conservatory biodegradable roof cleaning detergent via our high reach sprayer system
Step 4: Allow the required time to pass for the detergent to penetrate any grime and algae.
Step 5: Soft wash the roof using our soft bristle conservatory roof cleaning brush.
Step 6: Thoroughly rinse the roof with our filter pure water.
Why have your conservatory roof cleaned?
Conservatories are a big investment and with regular maintenance will last for many years. Unfortunately the conservatory roof is quite often overlooked, mainly because the roof is usually to difficult to clean.
Not only does an uncleaned roof look displeasing, left unmaintained algae and moss can thrive. This can then lead to damaged leaking roofs which are very costly to have repaired.
Conservatory roof cleaning is not a task to be undertaken without carful consideration. Many serious injuries occur every year from people falling from ladders whilst trying to carry out trickyDIY tasks.
The roof can not be walked on nor can it be cleaned with any abrasive cleaning chemicals that will scratch the roof panels. It is also advisable not to use high pressure jet washers which could break delicate parts of the roof.